PHOTOS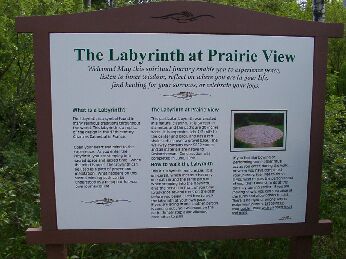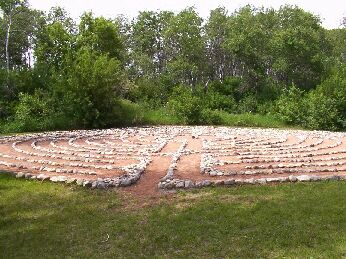 What is a Labyrinth?
The labyrinth is a symbol found in many religious traditions. Versions of labyrinths have been found in Peru, Arizona, Iceland, Europe, India and have been found in Hopi lands. The labyrinth is a sacred space. The most famous labyrinth is located in the great cathedral at Chartres France. The labyrinth is built into the floor of the cathedral, is covered by chairs during normal times and is uncovered for special purposes. Labyrinth shapes can vary. Outside labyrinths are made from stone, hedges, cords, etc. They can be painted on paper or papier mache and can be small enough to be used as finger labyrinths. Using one of these is as sacred and powerful as walking the large labyrinths. They can be used for any number of purposes; weddings, baptisms, funerals, any other type of celebration.
The labyrinth is a metaphor for life. In most labyrinths there is only one entrance, one path and one goal. In medieval times, the labyrinth was installed in many churches to give the common person a symbol of the pilgrimage to the Holy Land. As you enter a labyrinth, you are stepping into sacred space and time. When the mind is quiet, the labyrinth can be used as a path of prayer and meditation. What happens on this sacred winding path can be understood as a metaphor for your own life journey. It helps us to connect with the Creator, focus us on our path by harmonizing and balancing the body, mind, and spirit. The entry can also be a rebirthing. Using two finger labyrinths simultaneously will help balance the right and left brain energy.

The Labyrinth at Prairie View
The labyrinth pictured here is located just south of Saskatoon, Saskatchewan, Canada on the grounds of a crematorium. The owners have created a sacred space with prayer wall, labyrinth and secluded meditational walk. The labyrinth was created in a natural clearing. It is 50 feet in diameter with the paths 20 inches wide. It is approximately 1/2 mile to the centre and back and has a red shale surface over a gravel base. The walkway contains over 5250 stones and all materials are native to Saskatchewan. Construction was completed in June, 1998.
The labyrinth is not a maze; it is uni-cursal, meaning it has only one path in and the same path out. The centre of the labyrinth has six clover-like designs. These designs may be likened to the six chakras with the seventh being the centre of the design. People are encouraged to leave offerings to go with their prayers. As stated before, the labyrinth is a sacred space and prayers and offerings can be quite powerful in these areas.
On a personal note: I took a labyrinth workshop from an instructor (who designs and creates labyrinths herself) here in Saskatoon about two years ago. It was a very powerful experience. When one walks the labyrinth, it is almost like entering an altered or meditative state. Nothing seems to exist but the path and your experiences on it. Walking the labyrinth at Prairie View on a regular basis makes one feel peaceful and connected. In conjunction with the prayer wall and meditational walk, it is a very serene, joyful experience. I heartily suggest if you can locate a labyrinth in your locale, please walk it and experience it for yourself.


Web Design by Cheyenne